Spring Fundamentals (2013-2008)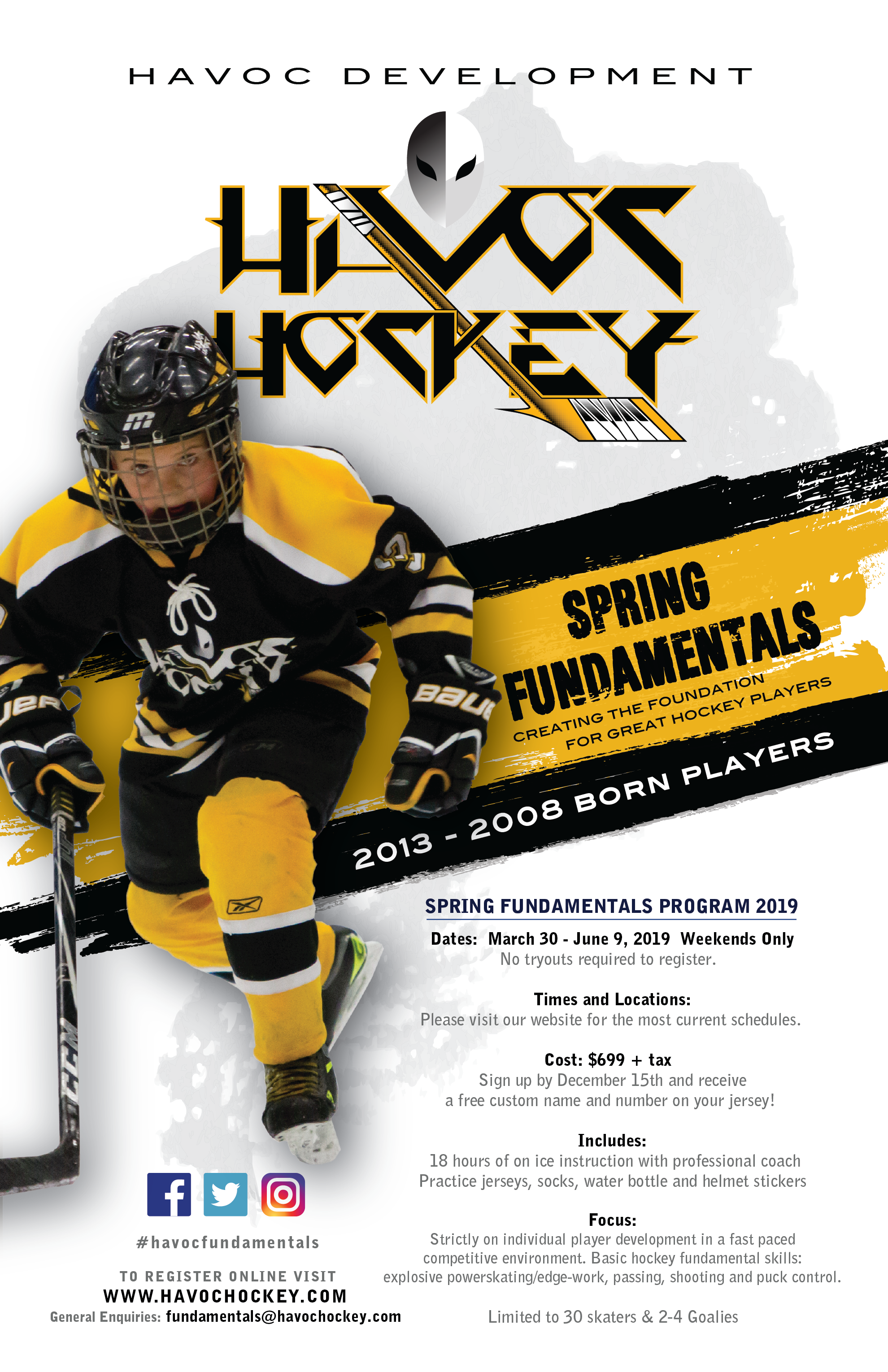 Age: 2013-08 Born
Date: See Tentative Draft Schedule below
Times: See Tentative Draft Schedule below (refer to FAQs for group assignment info)
Location: Rose Kohn/Great Plains. If there is enough interest we will open another group at Norma Bush or Henry Viney! If you are not able to attend Rose Kohn but would register at one of these locations please contact fundamentals@havochockey.com to be added to the list. Once we have the min'm number of players we will open up registration. If you register for the South but wish to move to one of these locations should it become available simply add this comment when you register.
Cost: $699+tx Sign up by December 15th and receive a free custom name and number on your jersey!
Coaching: Professional Coaching! min'm 3 coaches per group Nikita Korovkin
Limited to: 30 skaters & 2-4 Goalies (we have equipment to borrow for those younger players interested in trying the position) Please see FAQ's for goalie info.
Details: Includes 18 hours of on ice instruction with professional coaching. Registration fees also include Jerseys, socks, water bottles and helmet stickers. We are also excited to introduce Teamsnap as a tool for our coaches and organizers to track availability and keep everyone well informed leading up to and throughout the spring season. Our experienced coaches will use each ice time to focus on individual player development in a fast paced, competitive environment. Basic hockey fundamental skills covered include: explosive powerskating/edge-work, passing, shooting, puck control, puck protection, game like situations, battle drills and hockey IQ. No tryouts required to register.
Registration: ***Click here to Register***
Note* When selecting a season please choose 2018-19. When selecting a division please choose "fundamentals"
Tentative Draft Schedule: as of Jan. 14, 2018 - To be finalized/confirmed no later than Feb. 28, 2019. Please note the highlighted yellow times are TBC but the date is firm